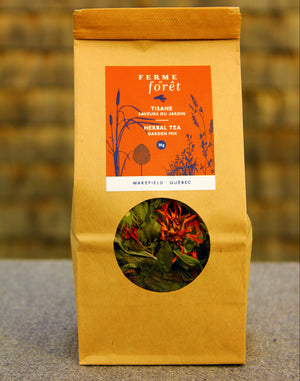 GARDEN MIX HERBAL TEA / TISANE SAVEURS DU JARDIN
This mix was harvested from our gardens, and mixes the healing properties of calendula with the beloved mint and the understated sage. Together, they make a powerfully energizing elixir.
Ces herbes ont été récoltées dans nos jardins, combinant les propriétés thérapeutiques du calendula avec la menthe tant appréciée et la sauge quelque peu sous-estimée.  Ensemble, elles forment un puissant élixir stimulant.
20 g