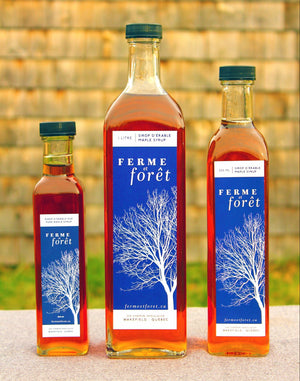 SYRUP SHARES 2023 / PARTS DE SIROP 2023
Thank you for your interest, but the syrup shares are sold out for 2023         
If you would like to received a notification when the syrup shares become available for the 2024 crop, please press 'contact us' and let us know. 
Merci pour votre intérêt, mais nos Parts de sirop d'érable sont épuisées pour l'année 2023
Si vous souhaitez recevoir une notification lorsque les Parts de sirop seront disponibles pour l'année 2024, veuillez cliquer sur « nous contacter » et nous le faire savoir.
le francais suit....
What are syrup shares?
Syrup shares are an advance purchase of our 2023 maple syrup crop at a reduced rate of $19 per litre (for 5 litres or more). Discount will be applied once you select 5 or more bottles in the cart.

Pick-up and Delivery 2023
You can pick your syrup up at the farm on April 29 or May 6, 2023 (your choice) between 1 and 3 pm.
Home delivery is also available within our delivery zone (see delivery section for a list of postal codes). Deliveries are free for orders over $100 and $7 for orders under $100.
Delivery dates are:
May 9, 2023: Wakefield, Masham, Chelsea, Gatineau and other Quebec addresses
May 10, 2023: Ottawa East: everywhere East of Bronson Ave.

May 11, 2023: Ottawa West: everywhere West of Bronson Ave.

Grades: we ask for your preference in syrup grade (golden, amber or dark). We can't always guarantee that Mother Nature will supply the desired amounts of each grade, but we'll do our best to accommodate you. We operate on a first come first serve basis, meaning the earlier you order, the better chances you have of getting your desired grade.
Other goodies: you are welcome to add any items from the 'products' section of this site to your order. These items will be added to your syrup order for the April/May pick up or delivery. If you'd like some items sooner, you will need to make a separate order. We also offer year round home deliveries every two weeks.
Please contact us if you have any difficulties or questions.
----------------
Que sont les Parts de sirop d'érable 2023?
Les Parts de sirop d'érable sont une façon de réserver une partie de la récolte de sirop à venir en précommandant du sirop à prix réduit. Nous offrons un prix réduit de 19 $ le litre (pour 5 litres ou plus). Le rabais sera appliqué une fois que vous avez sélectionné 5 bouteilles ou plus.

Livraison 2023
Vous pouvez venir chercher votre sirop directement à la ferme le 29 avril ou le 6 mai 2023 (votre choix) entre 13 h et 15 h.

La livraison à domicile est aussi disponible dans notre zone de livraison (voir la section « livraison »  pour une liste des codes postaux).  Les livraisons sont gratuites pour les commandes de plus de 100 $. Pour les commandes de 99 $ et moins, les frais de livraison sont de 7 $.
Les dates de livraison sont:
le 9 mai 2023 : Wakefield, Masham, Chelsea, Gatineau et autres adresses au Québec
le 10 mai 2023 : Ottawa à l'est de l'avenue Bronson

le 11 mai 2023: Ottawa à l'ouest dl'avenue Bronson
Type de sirop:
Vous devez choisir le type de sirop que vous préférez, ou un mélange de doré, ambré, et foncé. Nous ferons de notre mieux pour accommoder les préférences de tous en fonction du type que nous allons produire au printemps. Ceci étant dit, nous ne pouvons pas garantir que Dame Nature fournira les quantités souhaitées de chaque type, donc nous fonctionnons sur la base du premier arrivé, premier servi, ce qui signifie que plus vous commandez tôt, meilleures sont vos chances d'obtenir le type souhaité.
Autres produits: vous pouvez ajouter tous autres items de la section « produits » à votre commande. Ces articles seront ajoutés à votre commande de sirop pour le mois d'avril/mai. Si vous souhaitez recevoir certains produits plus tôt, vous devrez passer une seconde commande. Nous offrons des livraisons à domicile toutes les deux semaines toute l'année.
Veuillez nous contacter si vous avez des difficultés ou des questions.