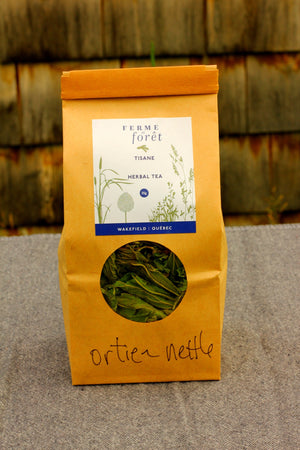 WILD NETTLE TEA / TISANE SAUVAGE À L'ORTIE
25 g.
Rich in iron, calcium, potassium, and other essential nutrients, this herb is a powerhouse. It's often used as a gentle detox, and is ideal to energize and combat fatigue. It's often drunk during pregnancy and after birth to help the body restore, revitalize and re-mineralize.
Riche en fer, calcium, potassium et autres nutriments essentiels, cette plante d'une valeur  nutritionnelle exceptionnelle est souvent utilisée comme agent doux de désintoxication et comme stimulant pour combattre la fatigue.  Elle est aussi appréciée durant la grossesse et après l'accouchement afin de soutenir, revitaliser et re-minéraliser le corps.