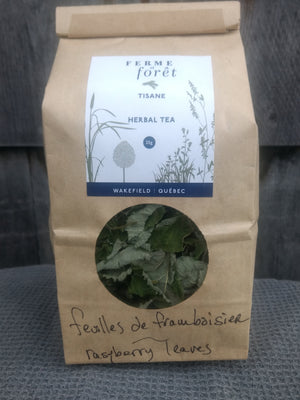 WILD RASPBERRY LEAF TEA / TISANE SAUVAGE FEUILLE DE FRAMBOISIER

Raspberry leaf tea is best know for supporting women in all stages of life, and is said to help reduce PMS and menstrual cramps, to tone the uterus for childbirth and support women through menopause. It's also a good source of antioxidants. It does not taste like raspberries, more like a mix between a green and a black tea.
La tisane de feuilles de framboisier est surtout connue pour soutenir les femmes à tous les stades de la vie. On dit qu'elle aide à réduire le S.P.M. et les crampes menstruelles, qu'elle tonifie l'utérus en vue de l'accouchement et qu'elle soutient les femmes pendant la ménopause. C'est également une bonne source d'antioxydants. Il n'a pas le goût de la framboise, mais plutôt celui d'un mélange de thé vert et de thé noir.